Help give Education and psychological support to 200 refugees. Let them transform pain to PURPOSE!
The Purpose Secondary Scholarship for Refugees(PSSR) aims at providing secondary education and psychological support to 200 Cameroonian refugees in Nigeria between the ages of 7 to 17 fleeing the Amazonian war while helping them to heal by transforming pain to purpose. Purpose Scholars also release and heal by harnessing their creative and artistic abilities in poetry,drama, music, story telling and arts in general and each will be given a Purpose Diary to document their unique stories.
The Purpose Scholarship : Education for Refugees:
Think education is a luxury for refugees? Then watch in the video how little Hilary in this video pleads for a uniform to go to school!. Like most of his peers at the Ogoga Refugee camp , Hilary and his family were forced to flee the ongoing Anglophone crisis in Cameroon to find refuge in Nigeria.
But before being a refugee, Hilary was and still is simply a little boy with dreams; a little boy who traumatized by the burning of his school, the kidnap of his classmates, the torture of his teachers,the destruction of his village and the killing of his people can through education, recapture something he lost when his family fled-HOPE.
With an estimated 437,500 internally displaced persons, 32,000 registered refugees in Nigeria, 1200 victims of cruel human rights abuses, 3700 orphaned children and 2000 persons arbitrarily detained and brutalized without trial and thousands more killed; the Anglophone crisis remains the worst but most neglected by Cameroon.
Out of these alarming figures, the education of 2,500,000 youths has been jeopardized.While armed conflict continues to plague the Anglophone Cameroon territory, the victims, especially the women and children live in a comatose state, depending on aid for their basic needs like food and shelter.
At Positive Youths Africa(PYA), we believe that sustainable peace can be achieved through a quality education that blends both peace education and general education especially in times of armed conflict.
For these children whose education and lives in general has been thwarted by armed conflict,education offers a ladder out of poverty and a path to a promising future(UNICEF)
Therefore, we find it unfair that the educational and spiritual progress of thousands of innocent children should be nipped at the bud by armed conflicts which do not even concern them.
So while we hail the efforts of the few organizations which are catering to the basic needs of the Cameroonian refugees like food, water and basic shelter, we feel that the education of a child especially one who has faced armed conflict deserves urgent attention.
As an organization established in both Cameroon and Nigeria, we are determined to fill up that gap by providing not only education but also psychological support.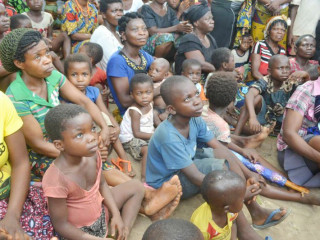 Purpose scholars will not only be enrolled in school but will be given the resources they need to transform pain to purpose while harnessing their creative and artistic abilities in poetry,drama, music, story telling and arts in general.
Given that everyone has his or her own unique story, all purpose scholars will be given a Purpose Diary to document their personal journeys from pain to purpose.
Risks & Challenges
It is very important to purposefully and positively nurture the youths at this early stage of their refugee lives because they risk falling into all sorts of mischief if not catered to.By running this project, we are diverting young refugees away from snares like violent extremism, child militarization, depression, prostitution, etc.
Youths need the routine, discipline and protection that school provides but also the opportunity to learn, play, share, express their creativity, dream…and just be youths!
But most importantly, they need the spiritual, moral and psychological empowerment to face life's snares with strength and optimism.
How the Funds Shall be Used!
The 21,000USD raised will help us;
-Pay school fees
-Sew school uniforms
-Buy exercise books
It is worth noting that the Purpose Scholarship for Refugees(PSR) will be complemented by the Purpose Students for SDGs campaign(PSSDG) which will collect donations of  school materials such as school bags, school shoes and text books from other fortunate students in Lagos,Nigeria and Yaounde, Cameroon. The Peace Education Concerts and Shows(PECS) is another fund raising initiative which will complement the PSR.
How You Can Help
Any bit of donation helps tremendously.
Donations can be made via our indiegogo campaign: https://www.indiegogo.com/projects/the-purpose-scholarship-education-for-refugees/x/20659606#/